Home
About Us
Calendars
Great Room
Fiske Room
Arts Room
Friendship Hall
Rental
Rental Form [pdf]
Join Us
Cornerstone
Plate Project
Winter Market
Contact HAI



WHAT'S HAPPENING AT THE 1912 CENTER

A cherry tree from the orchard
by Maia Cousins




Staged Reading Fundraiser

Vanya and Sonia
and Masha and Spike

by Christopher Durang

Sunday, January 5th at 2 p.m.
In the Great Room



Get your tickets now by clicking the button above for the special staged reading of Vanya and Sonia and Masha and Spike! This afternoon event is presented by Heart of the Arts, Inc., managers of the 1912 Center, and Moscow Art Theatre (Too) and features a wonderful cast of talented local performers. All funds raised from ticket sales will benefit the second floor renovation project of the 1912 Center. Come join us on Sunday afternoon, January 5th at 2 p.m. in the Great Room.

The 2013 Tony Award winning comedy by Christopher Durang, "revolves around the relationships of three middle-aged single siblings, two of whom live together, and takes place during a visit by the third, Masha, who supports them. They discuss their lives and loves, argue, and Masha threatens to sell the house. Some of the show's elements were derived from works of Anton Chekhov, including several character names, the play's setting in a cherry orchard, and the theme of the possible loss of an ancestral home." (Cited from Wikipedia)

The cast features David Harlan as Vanya, Nancy-Achali Lee-Painter as Sonia, Kelly Quinnett as Masha, Bryce Gowey as Spike with Hillary Mosman as Cassandra and Paige Erbele as Nina. The production is being directed by David Lee-Painter, most recently seen on our stage in the leading role of Elwood P. Dowd in our summer reading of Harvey.

During intermission you can tour through the the second floor renovation before construction begins and we will provide show-appropriate treats. This is a great chance to become familiar with what your donations can make possible for our community at the 1912 Center. Please contact the office at (208) 669-2249 with any questions or to make changes to your reservations. We hope to see you at the reading!



Painter Smurf is ready for this theme!
"We've Got the Blues!"

Make Art for the February
Community Art Show!

The 1912 Center community is invited to make art on the theme: "We've Got the Blues!" for the next community art show coming in February. True blue friends? Blue skies ahead? Down in the dumps? Babe the Big Blue Ox? Whatever this theme means to you, one piece of ready-to-hang art per artist will be received on Monday, February 3rd from 9 a.m. to 7 p.m. in the Heart of the Arts, Inc. management office, located inside the Senior Center of the 1912 Center. There will also be limited space for sculptural pieces so please contact the management office if your piece would need an alternate form of display. Submitted pieces may be available for sale or not for sale, as the artist prefers.

Then come on out to the opening night party on Friday, February 7th from 5 to 7 p.m. and enjoy some bluegrass music while drinking Blue Sky Soda and eating blue corn chips. We will be voting on the best of show favorites to award them blue ribbons! So join us for a great evening of fun with the community. Everyone is invited! Don't miss out as this theme only comes around once in a blue moon!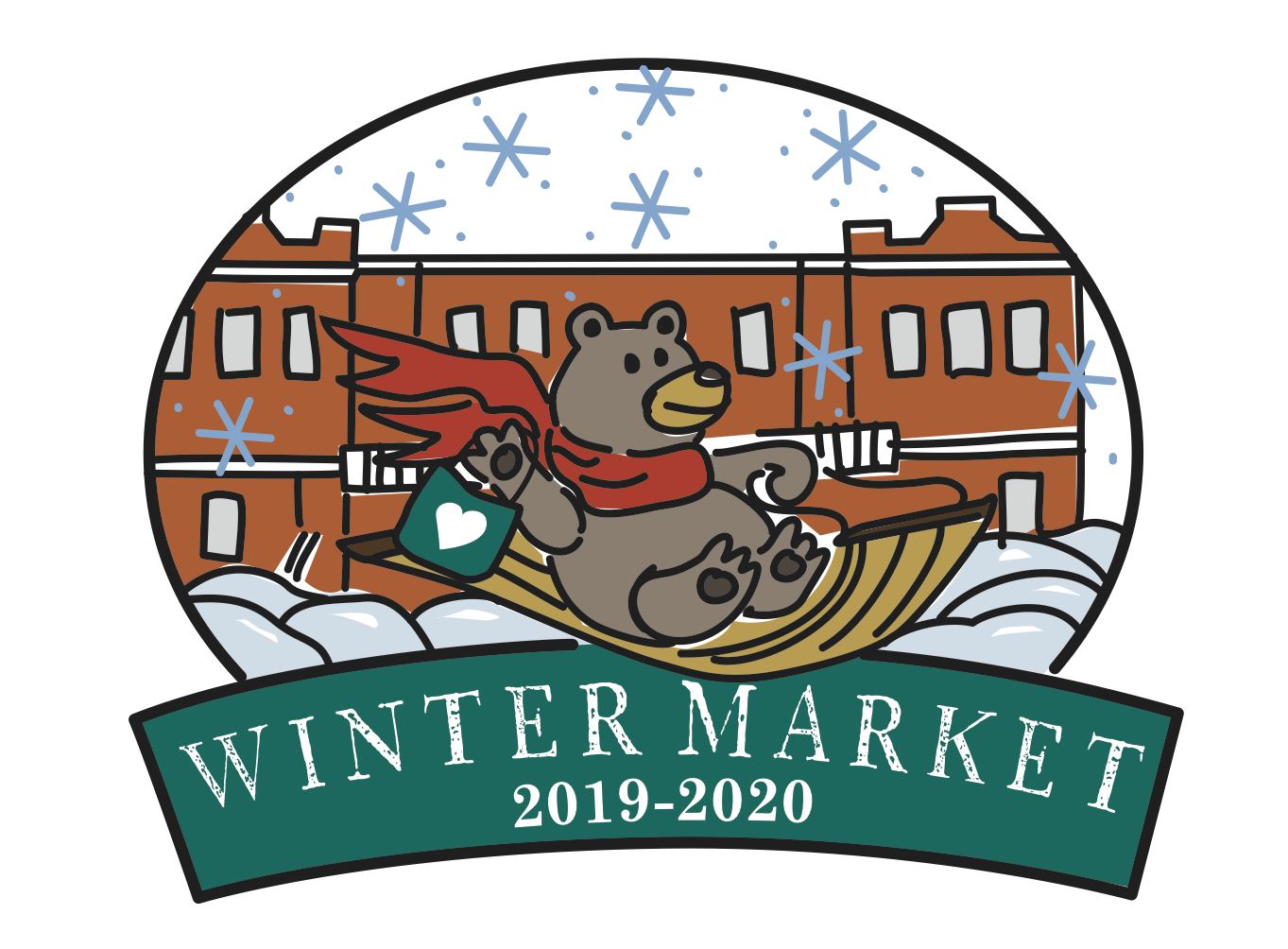 Winter Market

Saturdays from 10 a.m. to 2 p.m.
February 1, 2020
And March 7, 2020

Two Winter Markets remain in the 2019-2020 season on Saturday, February 1st and on Saturday, March 7th. Come shop from over 30 different vendors selling everything from fruit to lettuce, from honey to cheeses, from jewelry to art, from knit items to pottery, from baked goods to soaps and lotions. Vendors are selling handmade and local items on the Plaza, in the Great Room and on the balcony. Backyard Harvest is on hand inside the Senior Center to offer use of EBT cards to shop the market. Also lunch items will be for sale from MELA in February and Sushi Man in March. (Please note that while there is no market in January, Tonnemakers will be selling fruit on the Plaza on Saturday, January 11th from 10 a.m. to 1 p.m. for those looking to purchase apples and more then.)

Moscow Welcome Table

Free Community Dinner
Third Monday of Every Month

A new way to connect over a meal is now happening in the Great Room of the 1912 Center the third Monday of each month and you are invited to attend this free community dinner.

The goal of the Moscow Welcome Table is to serve people from all walks of life and connect them through a shared experience over a gourmet meal. Each restaurant-style meal will feature different chefs from the region and will serve several courses and dessert. Seatings take place at 5 p.m. and 6:30 p.m. and reservations may be made up to two weeks in advance by calling (208) 298-9020. Please tell us your name, the number in your party and a good contact number to call you back to confirm your reservation. (Walk-ins will be seated if space is available the evening of the dinner but are not guaranteed.) The Moscow Welcome Table will serve a free meal every third Monday of the month, so if you cannot make one month, you can come join us the following month.

This event is brought to you through financial donations from members of our community and all are welcome to participate. Heart of the Arts, Inc. is partnering with community members and local chefs to create different meals each month. If you are interested in volunteering, by yourself or with a group, to help cook or serve during the Monday meal, please contact Jenny Kostroff at (208) 669-2249 or by email at 1912Center@gmail.com. We are also looking for more community partners to help keep this project going into the future financially so reach out and become an evening meal sponsor! We deeply appreciate the support!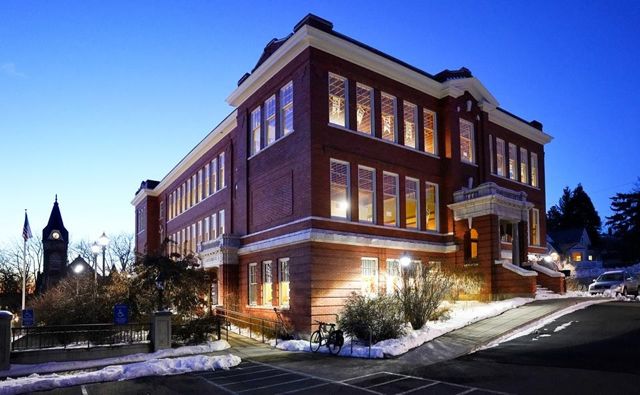 Southeast corner of the 1912 Center
Photo by David Harlan
What's Next?

Time to head upstairs!

The facility now has all the windows replaced and it looks beautiful thanks to our fantastic community donors' support! Windows may still be adopted for a $1,912 donation that may be made all at once or over time. Leave your own legacy at the 1912 Center with an engraved plaque on the window you choose and help fund the next construction project at the facility. We also have stairs to adopt for $500 per step! We may look all renovated from the outside but there are 20,000 square feet of space to get restored upstairs in the building to create more gathering spaces for our community.

The roof and skylights were replaced during a project over the summer months of 2018 and the building is all water tight. We are in the process of completing our fundraising to be able to complete the second floor renovations that will include a small auditorium, a community living room, an historic classroom, a game room, bathrooms and more. We hope to begin construction in early 2020 with your help.

Questions about the renovation project? Please contact Jenny Kostroff in the 1912 Center office at (208) 669-2249 or e-mail the 1912 Center at 1912Center@gmail.com and she will happily share with you what is happening at the building. Thank you so much for your support and shared excitement for getting more space renovated inside the 1912 Center as soon as possible!

In the meantime you can visit our Facebook page for updates on happenings in the building and photo albums of past events in the spaces to help you plan your next event at the 1912 Center.




top
Heart of the Arts, Inc. (HAI) Enriching lives and creating community by operating and restoring the 1912 Center.