Home
About Us
Calendars
Great Room
Fiske Room
Arts Room
Friendship Hall
Reception Gallery
Lecompte Auditorium
Rental
Rental Form [pdf]
Join Us
Cornerstone
Plate Project
Winter Market
Contact HAI



WHAT'S HAPPENING AT THE 1912 CENTER
1912 Center Closed

Currently closed
for public safety

The 1912 Center is still closed to the public during the month of May when gatherings need to be fewer than 10 people and seniors are still at a greater risk. At this time, we are looking to do a soft opening (for small events only) in June with a planned public reopening of the building, senior mealsite and drop-in spaces on Tuesday, July 14th. As this situation is constantly changing, we may need to adjust this date. All payments for canceled events that were scheduled to be in the 1912 Center during this time will be refunded in full and groups expecting to meet in the building are being contacted.

During the time of closure, senior meals are being distributed from the back of the 1912 Center on Tuesdays and Thursdays at noon. Individuals must wait in their cars to be handed a meal or meals. To let the kitchen know how much to prepare or to ask about home delivery during this time, contact the president of Friendly Neighbors, Bill Terrio at (208) 310-3779. Food recovery distribution is on Fridays in the east parking lot, as long as food is available. Contact Sandra Baird at (970) 620-0125 for more information.

Also, Saturday May 23rd and May 30th find Brush Creek Creamery in the east parking lot from 10 a.m. to noon distributing the week's goodie bags. Contact Brush Creek Creamery directly to learn about their goodie bag program at (208) 877-1020.



Finished May 7th!
Idaho Gives Thanks

Two weeks of giving
helped your 1912 Center!

We are super excited to thank over 135 donors who participated in Idaho Gives 2020 and supported the second floor renovation this year during the state-wide giving event. We raised over $17,000 during the two weeks of the program this year! That qualified us for 4th place amongst the medium-size non-profits and we won an additional $750 for the project! We are so grateful to our community near and far for helping us to complete the second floor renovations. The support means the world to this old high school from 1912. YOU are giving it new life!

Did you miss Idaho Gives this year? You can still make a difference to the project with your donation at any time! Click our donate button at the bottom of the page or in the side bar and join us. The more people who connect with the 1912 Center with a gift of support, the sooner we have the whole building ready for community use. Every dollar helps! Thank you very much.


Calling All Artists

Are you making art this spring
that you want to share?

Heart of the Arts, Inc. is looking for artists for our summer hallway gallery show at the 1912 Center. Since the City of Moscow has postponed Artwalk until the fall months, we need an artist to help us decorate the hallway walls this summer. If you would be interested in this opportunity, please contact Jenny Kostroff by email at 1912Center@gmail.com. Include with your message an image or two of what you might want to show. You would need to have enough work to fill the hallway gallery (at least 14 pieces) and the pieces would need to be ready to hang. Details will be worked out with interested artists and 1912 Center for delivery of the work in May while the building is closed. Thank you in advance for sharing your talent with our community!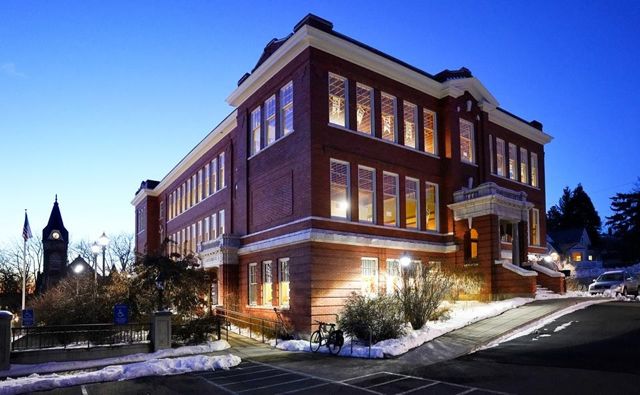 Southeast corner of the 1912 Center
Photo by David Harlan
What's Next?

Time to head upstairs!

The facility now has all the windows replaced and it looks beautiful thanks to our fantastic community donors' support! Windows may still be adopted for a $1,912 donation that may be made all at once or over time. Leave your own legacy at the 1912 Center with an engraved plaque on the window you choose and help fund the next construction project at the facility. We also have stairs to adopt for $500 per step! We may look all renovated from the outside but there are 20,000 square feet of space to get restored upstairs in the building to create more gathering spaces for our community.

We are currently in construction to complete the small auditorium, reception gallery and bathrooms. Meanwhile we are still fundraising to be able to complete the second floor renovations to include a community living room, an historic classroom, a game room, and a Zoom meeting room.

Questions about the renovation project? Please contact Jenny Kostroff in the 1912 Center office at (208) 669-2249 or e-mail the 1912 Center at 1912Center@gmail.com and she will happily share with you what is happening at the building. Thank you so much for your support and shared excitement for getting more space renovated inside the 1912 Center as soon as possible!

In the meantime you can visit our Facebook page for updates on happenings in the building and photo albums of past events in the spaces to help you plan your next event at the 1912 Center.




top
Heart of the Arts, Inc. (HAI) Enriching lives and creating community by operating and restoring the 1912 Center.